Best Waterproof Work Boots
Having wet feet while working outside all day can make for an extremely long day. It's very important to have a pair of boots capable of keeping the outside elements from inside your boots. We give a list of our top ten waterproof safety toe work boots, made to keep your feet dry.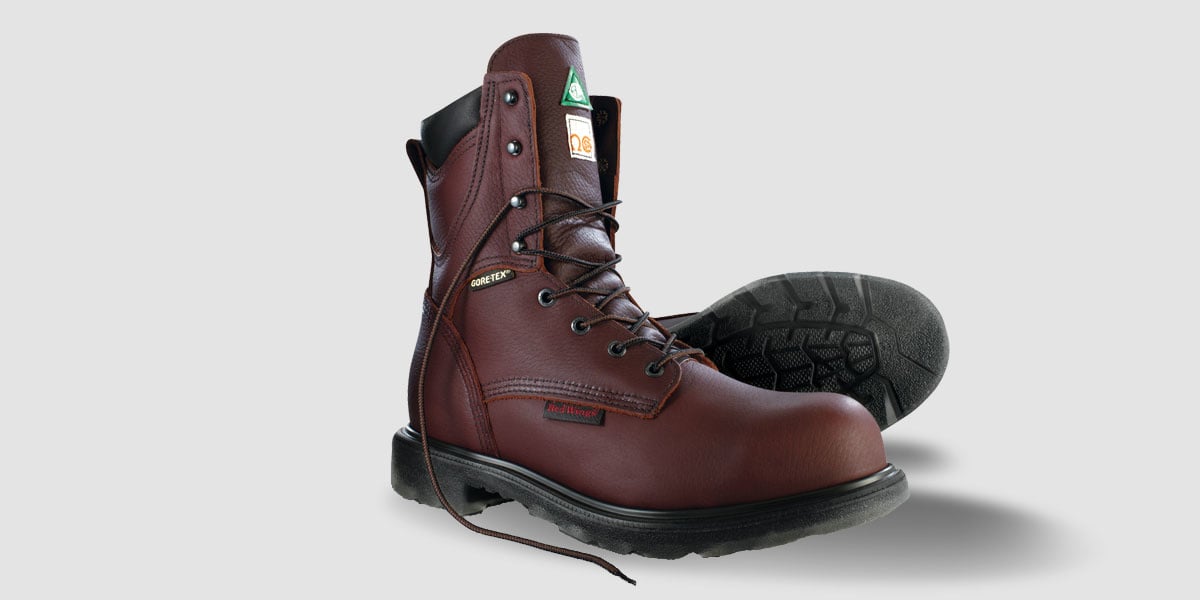 2412 - Red Wing Supersole 2.0 8-inch Insulated Boot
Red Wing Shoes makes some of the most premium work boots, with the added benefit of some being made here in the USA. This feature-packed SuperSole 2.0 boot is considered to be one of the best work boots from Red Wing.
Made with a Gore-Tex lining, guaranteed to keep water out. The Gore-Tex membrane blocks wetness from the outside, while also allowing moisture to evaporate. Gore-Tex achieves this by having over 9-Billion pores per square inch that prevents water from passing right through, yet allowing your sweat to pass right through, being sure to keep your feet dry in any work environment..
 Lined with 400g of 3M Thinsulate Ultra Insulation, which is considered a happy-medium of insulation and allows you to wear these boots during all of the seasons. 3M Thinsulate is thin and warm, along with the durability to withstand long hours of hard wear in any conditions.
This heavy-duty boot keeps you both safe and comfortable in any environment. The outsole provides durability and protection with being puncture and chemical-resistant, while the insole provides extreme comfort and cushion.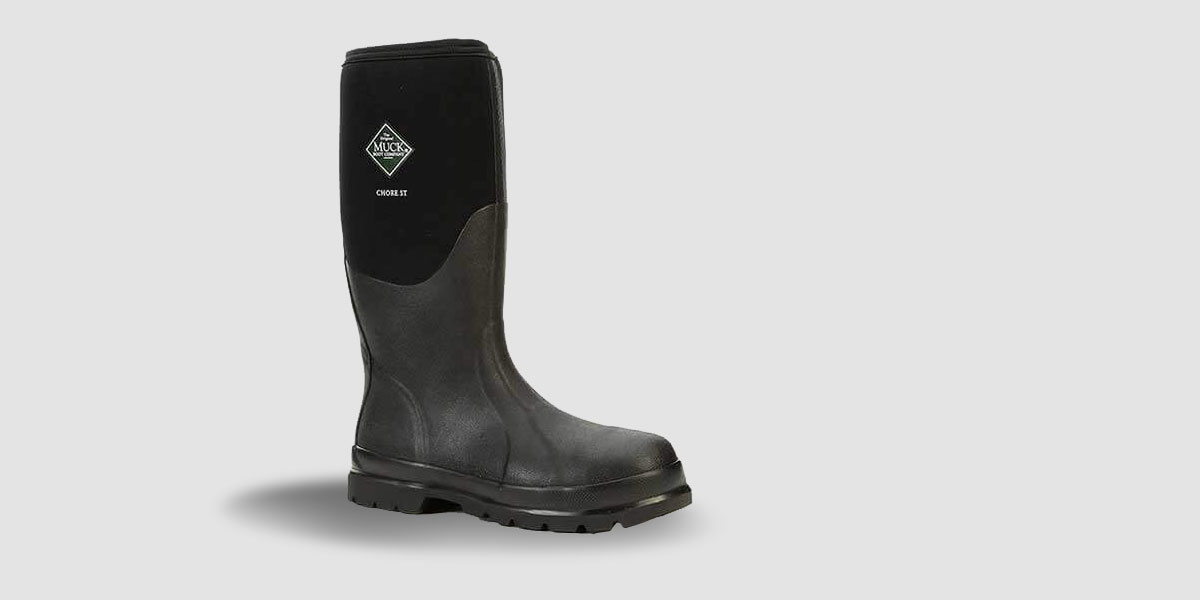 Muck Boots is known for their waterproof protection from using a neoprene and rubber mixture in their uppers. So it only makes sense to have them in a list full of waterproof boots.
The Chore Boot is one of Muck's most well known boots, due to the over-the-calf height and ability to tuck your pants into. The neoprene and rubber mixture upper allows you to stand in any water, for any period of time, and keep you dry. The 5 mm thickness makes it a perfect weight for Spring, Summer, and Fall.
This easy pull-on boot is also more snug around the ankle, to prevent your boot from pulling off if you get stuck in some muck (pun intended).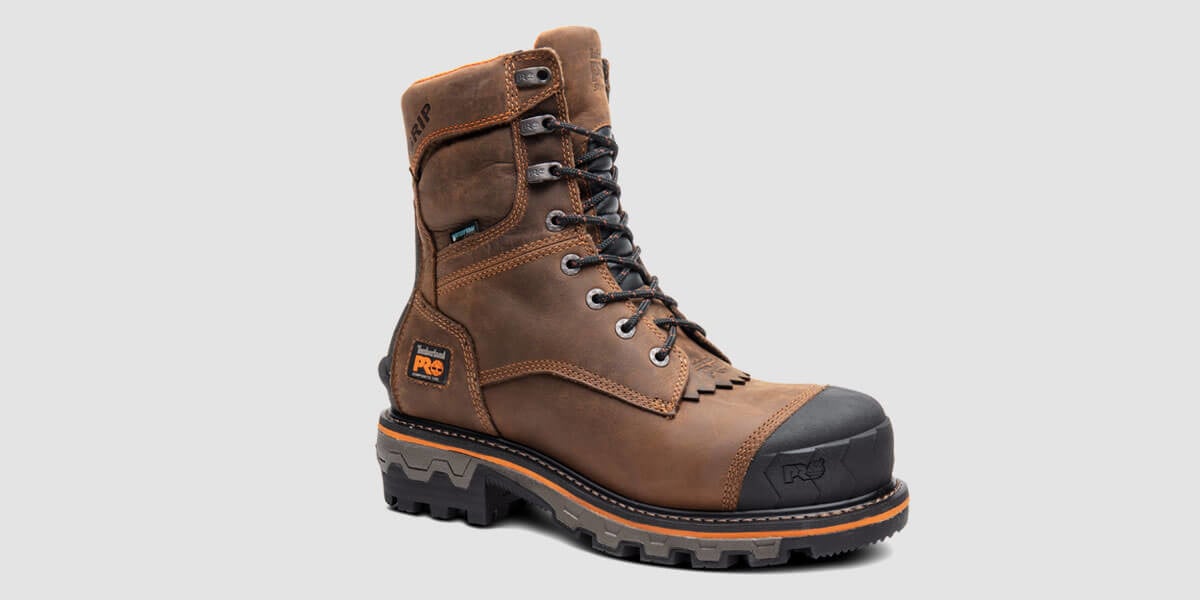 The Boondock HD is a feature-packed product from Timberland Pro, and arguably one of the best logger boots.
Logger boots are sure to see the outside environment more than any other style of boot. Which is why it makes sense to have the capability of keeping water and moisture out.

This Boondock HD Logger has a waterproofed leather, along with a waterproof membrane, guaranteed for an entire year to keep water out. 
Any boot that is going to be outdoors all day, and in uneven terrain, needs an outsole that is going to hold up. Made with an all-weather TPU outsole, which is both lightweight and abrasion resistant, this boot is sure to take any abuse you throw at it.

Structured with a triple-ribbed steel shank for support.This pair of work boots are made for climbing and standing on uneven terrain, so no need to worry about them flexing in undesirable circumstances.
The Boondock HD is made with Timberland Pro's StepPropel™ footbed, which absorbs the shock and allows for energy return. This helps with sore feet and allows you to work all day worry-free.
This boot also comes with all of the safety features, like a composite safety toe and electrical hazard protection.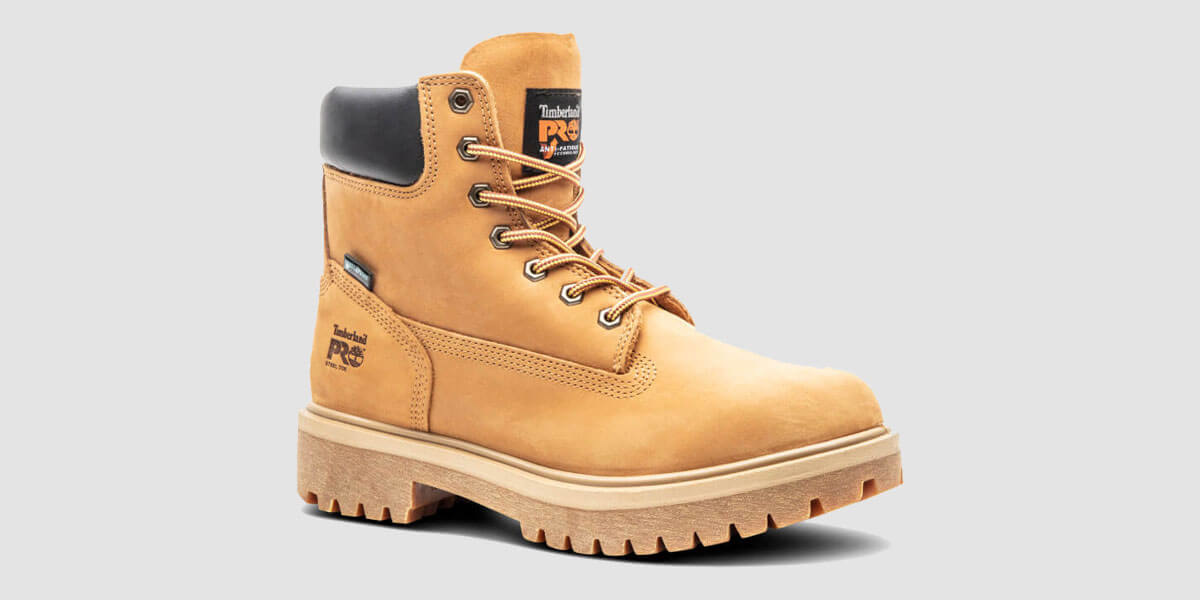 One of Timberland Pro's staple, the Direct Attach boot is overall one of the top rated boots. There's a reason why it's one of their staple styles. 
Along with being a good looking boot, these boots are lined with a waterproof membrane, making sure to keep the water and moisture out. Also, as another layer of protection, these boots are also seam-sealed waterproof, meaning that the leather has been through a special tanning process, ensuring that the leather repels moisture.

These boots are also rated great in slip resistance along with having an oil resistant outsole. 
All of this, paired with their anti-fatigue technology, these boots are sure to keep your feet both dry and comfortable all day long.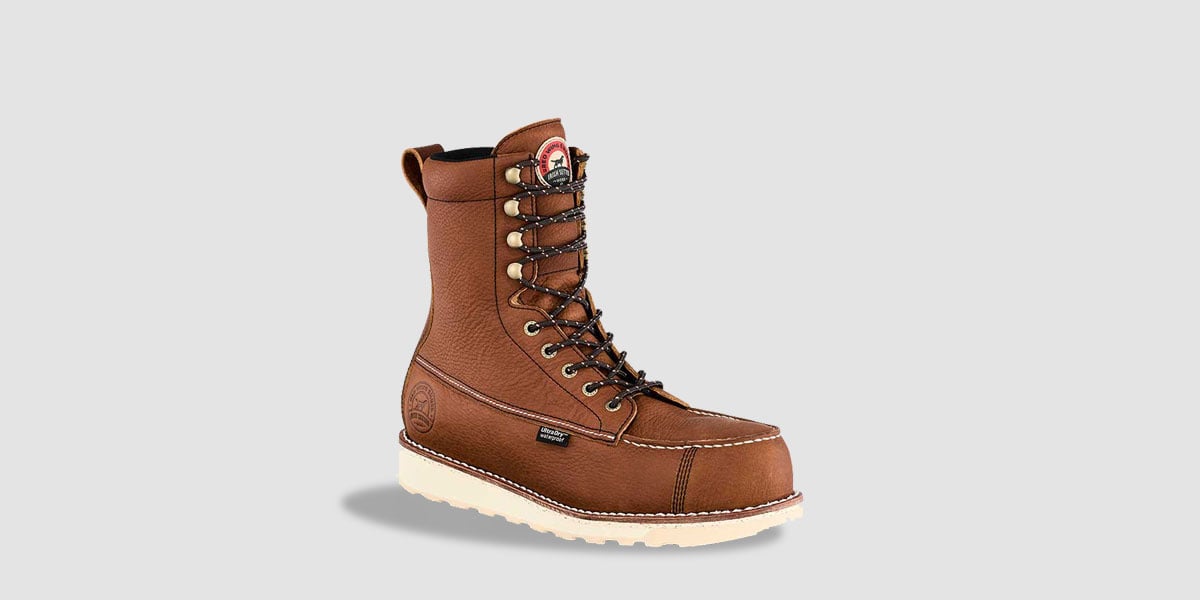 Irish Setter is a subsidiary of Red Wing Shoes, but make no mistake, these boots are still built with integrity like the entire Red Wing Shoes line.
The Wingshooter ST is one of the most popular boots from Irish Setter, along with being one of the most comfortable. 
These boots have Irish Setter's UltraDry™ Waterproofing System, which combines a moisture management lining with other waterproofing components to create a long-lasting waterproof boot.
The added bonus of the rubber outsole, making these boots extremely comfortable, and being extremely heat-resistant, which has been tested and is heat resistant at a minimum of 475° F, makes these one of Irish Setter's best boots.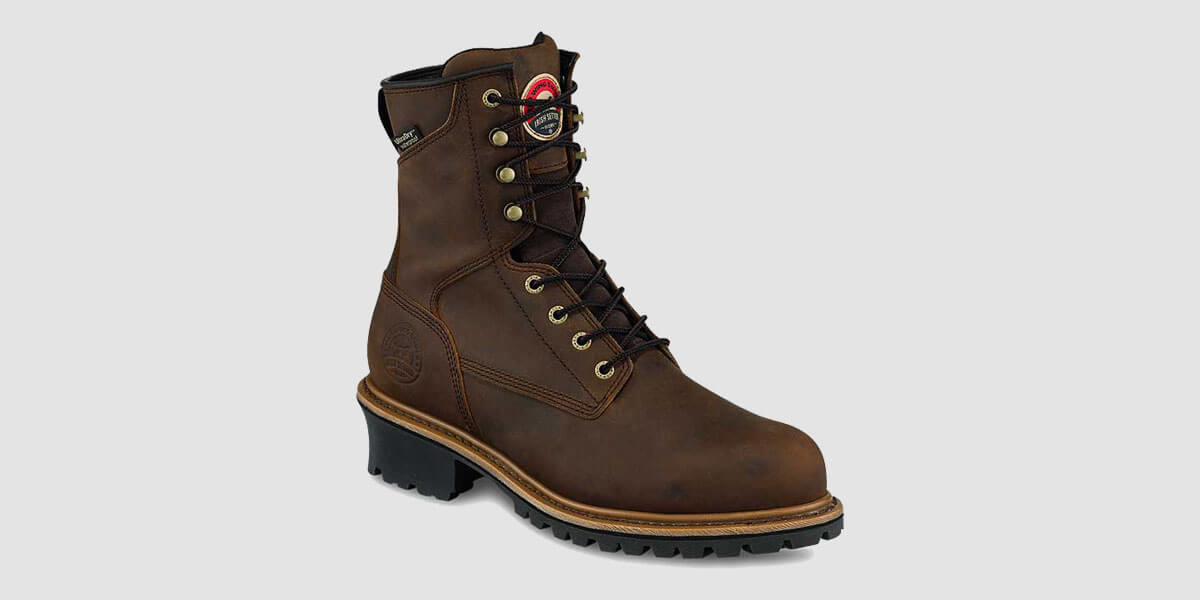 Logger boots are made to take abuse from the outdoors, and the Irish Setter Mesabi is no exception.

The Mesabi has a full-grain waterproof leather that is also backed by the UltraDry Waterproofing System. Meaning this boot is made to take water head on. 
Made with a goodyear welt and a larger than average steel shank, these boots are made for both durability and stability. No need to worry if these boots will fold under pressure.
These loggers are also made with a long lasting, heat resistant outsole, which is made to help keep you secure and safe in any environment.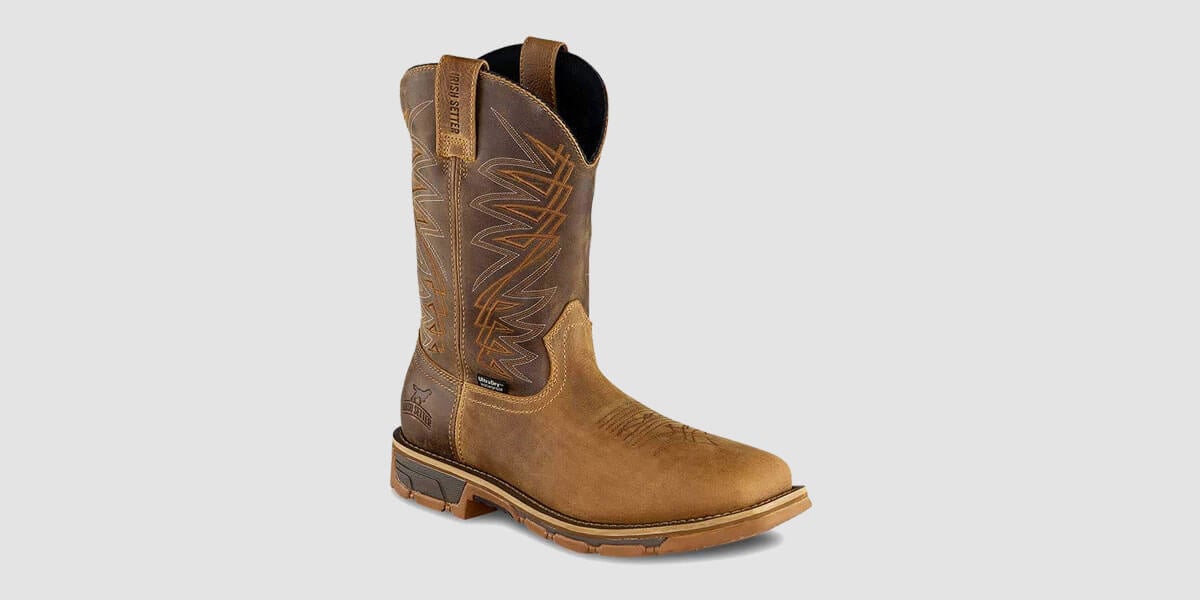 Pull-On boots are great for tucking in your pants, and walking through all of the muck that the jobsite may have. 
Made with Irish Setter's UltraDry Waterproof System, these boots have a waterproof liner with other waterproof components to create a long-lasting waterproof boot.
Irish Setter also created this boot with their RPM™ technology, which is a composite material that reduces the weight of the boot, but is also engineered to provide durability and strength that's expected from a heavy-duty boot.
This boot is also made with a heat resistant sole that has been tested to perform in high heat. These soles have a minimum melting point at 475° F. No need to worry about black top or paving ruining these boots.
Also, we can't leave out the fact that these are some great looking boots. Who says you can't wear work boots out after work?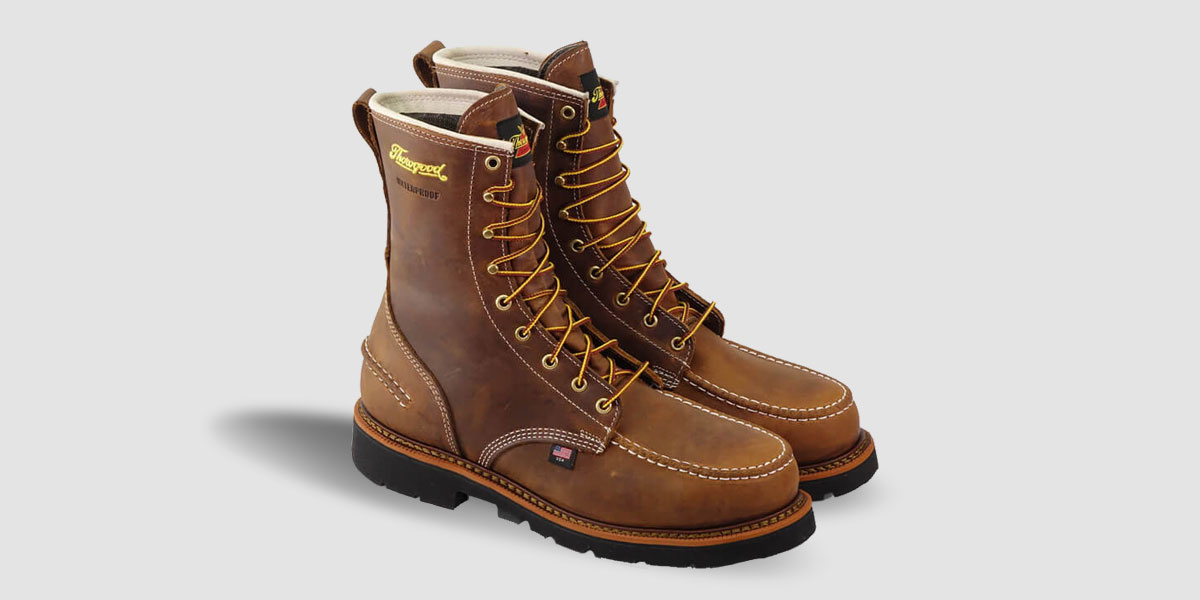 Thorogood is known for making some great USA-made work boots. Not only do a lot of their boots look good, but they are also very practical and able to be used for many different industries.
The 1957 Series is one of our favorite boots made by Thorogood. The 804-3898 has their Max Wear 90° outsole, which is a longer wearing soft sole and has the 90° heel. This sole is great for hard surfaces and is extremely comfortable for such, along with also being more durable than comparable soles.
This boot is also made with Thorogood's X-Stream Waterproofing, which is a soft waterproof liner that's also breathable to help keep your feet dry.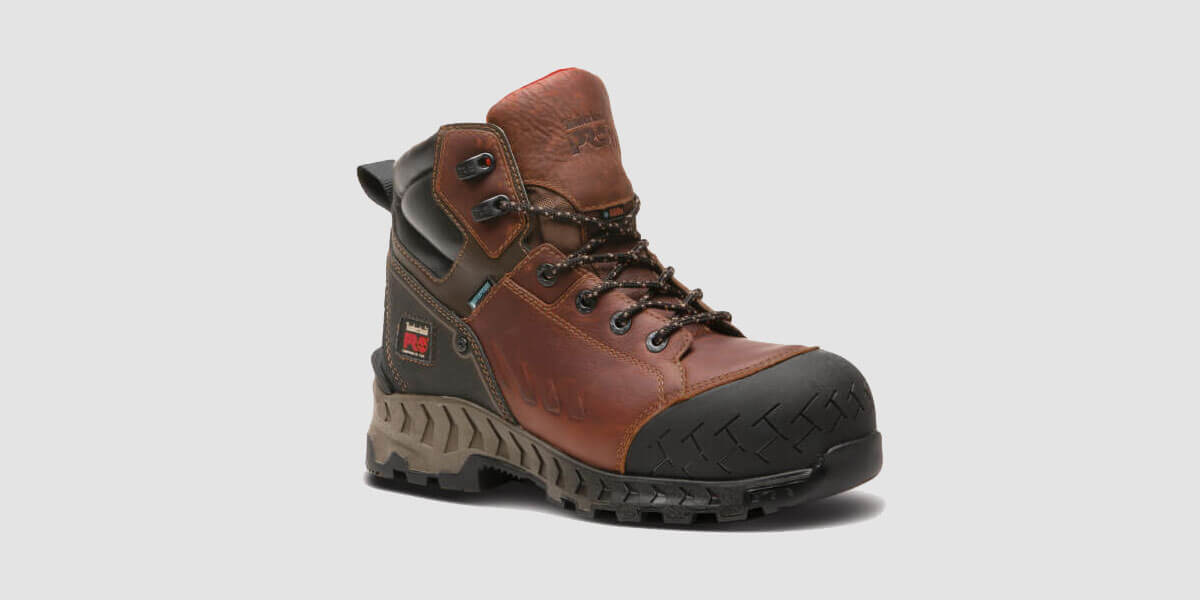 If you're someone who is constantly walking, especially outside, then the Timberland Summit boot is perfect for you. These hiker-style boots are extremely flexible and are comfortable with walking miles each day.
Timberland Pro's Summit Boot has a waterproof leather, which is a special tanning process to repel water, making it capable of standing in water for periods of time. 
A unique feature of these boots, and Timberland Pro's advanced technology, is that they also have antimicrobial odor control. Meaning for the fellas that have to keep their boots outside because they smell so bad, this may be the answer you've been looking for.
All of these features paired with their Exospine™ technology, which is Timberland's answer for long lasting structure and support in their boots, which was originally only in their Pull-On work boots, make this another great boot from Timberland.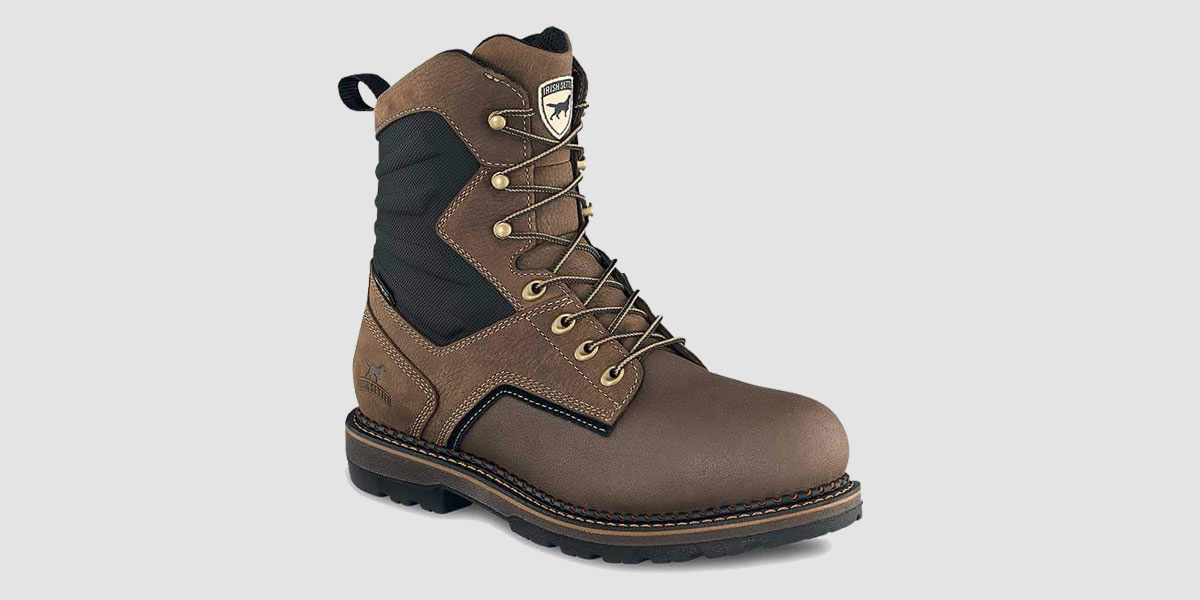 Irish Setter has helped solve the issue for guys that destroy the leather of their boots. They created a boot that is layered in Armatec™ XT. This layer has been specially formulated to be extremely durable and provide extra protection. This layer has been specially placed in the parts of the boot most prone to wearing down.
The Ramsey 2.0 is also paired with UltraDry™ Waterproofing system, allowing you to stand in the water, walk through water, or do just about anything in water. 
The Ramsey 2.0 also has Irish Setter's ENERG, which is a high-rebound material that delivers a recharging burst of energy with every step. Allowing you to do your work, more comfortably, and longer.
The leather of this boot is also special, it's made from Red Wing's S.B Foot Tanning Company, which is their tannery in Red Wing, Minnesota. They only use U.S Raised Steer for this leather, and have mastered the art of tannery, making this one of the most durable leathers.

So Which Will Be Best For Me?
No matter which one of these boots you end up choosing for your jobsite, if there's water involved, you don't need to worry about these boots failing you. But, there are some things to consider before selecting any of these.
If you do a lot of walking, you may want to consider going with a boot that is 6-inch and that has a direct attach construction, which helps tremendously with flexing. 
If you do a lot of climbing, how about a boot that has a 90° heel, in order to grip better.
If you're typically standing on hard surfaces, pick one that has the softest soles. Your feet will thank you later.
As always, you can reach out to us with your specific questions, we love to help!