If you've ever been caught out in the rain without a waterproof jacket, you know the feeling of being soaking wet for the rest of the day. Nobody enjoys that feeling, and nobody enjoys being unprepared. Keeping a waterproof jacket in the truck for the unforgiving rain will give you a great sense of relief when the clouds roll in.
While looking for a jacket, I'm sure you've seen "Waterproof", "Water-Resistant", and maybe even "Water Repellent". With all the different types of waterproofing and different systems between brands, how do you know which one is going to keep you dry?
We break down all the mumbo jumbo and try to make everything as simple as possible, along with a few suggestions
Waterproof vs Water-Resistant
There are many different materials that jackets are made out of, some are waterproof and some are water resistant. 
So here's the difference, waterproof means that water cannot penetrate the material. A great example of a waterproof material is PVC (polyvinyl chloride). 
While a water-resistant product helps keep water out, it can only keep out so much water. Typically a water-resistant material is woven tightly, and treated with some type of waterproofing spray. Some water-resistant materials may be nylon or polyester.
Here's the trade-off, typically, waterproof materials aren't great at allowing the air to pass through. Meaning it can become hot when wearing these jackets and working. Although, water-resistant jackets are great at breathing, so they keep you dry and keep you from sweating.
Different Waterproof Materials
Polyethylene
This material is made explicitly to keep you dry. Whether you're in a heavy downpour, or standing in waist-high water, you will not get wet. In order to keep the jacket waterproof, companies will heat seal the seams together to ensure that there is no way for water to get in.
Gore-Tex
The Gore-Tex membrane is a man-made material that has billions of pores in one square inch (yes, you read that correctly) and each pore is about 20,000 times smaller than a water droplet, making it absolutely impossible for water to penetrate. Another great feature of Gore-Tex is that it breathes pretty well for being waterproof.
Rubber
Rubber is a waterproof material, not typically found in jackets, but is very popular for boots. If you're looking for our favorite waterproof boots, check out our article here: The Best Waterproof Work Boots | Our Top 10 List
Different Water Repellent Materials
Nylon
When nylon is woven tightly, it is water-resistant and a great material for water-resistant garments. Most garments that are nylon, are also treated with DWR (Durable Water Repellent) to help create a highly water-resistant jacket.
Polyester
Polyester is similar to nylon in that it can be water-resistant when tightly woven together. Similar to nylon, it also is breathable and allows air flow to pass through, keeping you cooler. A polyester garment will also need to be treated with a water-repellent in addition to being tightly woven.
Waterproof Rain Jackets/Coats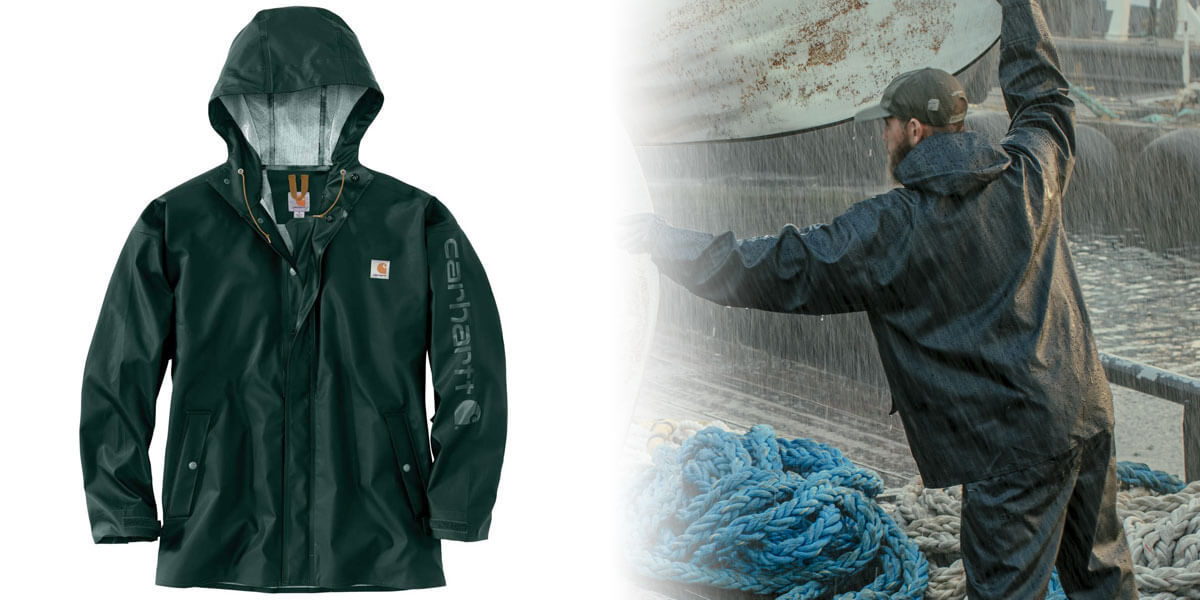 This Carhartt coat is mostly made of polyethylene, which is a waterproof material, sure to keep you dry in just about any storm. This coat is great for layering overtop of sweatshirts in the fall time or even over top of jackets in the winter.
The coat has reinforced major seams, meaning that the seams that matter most are aas durable as possible. The only way you can get wet in this coat is from a tear in the material/seam, which is why it's important to be heavy-duty.
Along with being waterproof, this coat is also windproof. On the days when the sky is gray, and wind whipping, this is the perfect coat to layer over-top of your sweatshirt to keep you dry and warm.
Water Resistant Rain Jackets/Coats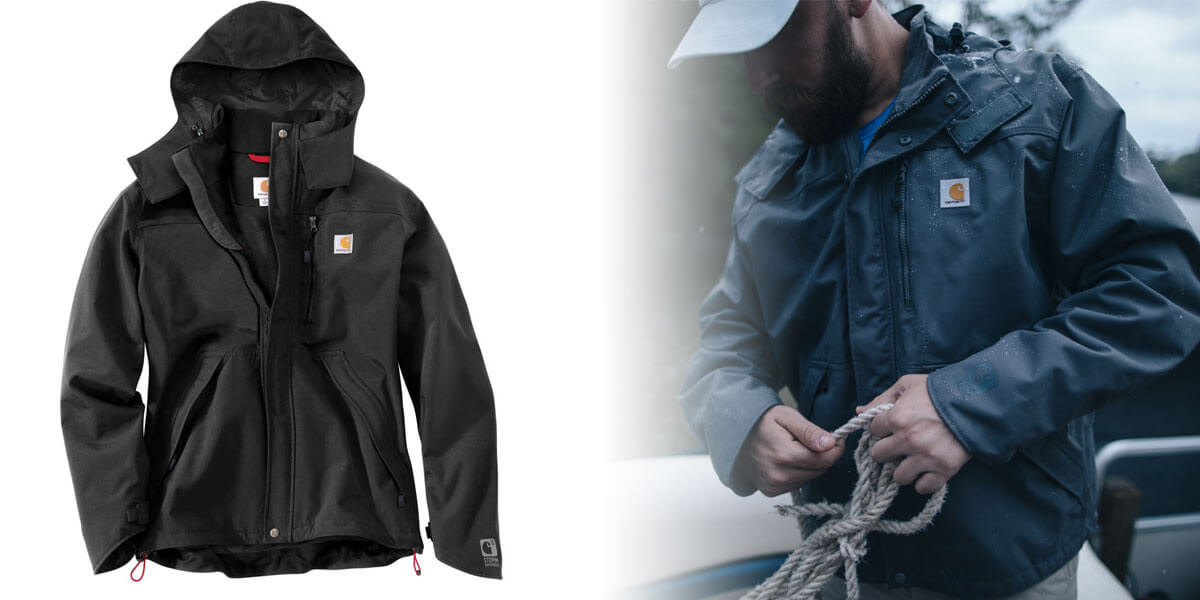 The Shoreline Jacket is made with a nylon shell and treated with Carhartt's Storm Defender® membrane and Rain Defender® water repellent. This makes the jacket extremely water-repellent and also breathable.
The waterproof rating on this jacket is 10k/10k, meaning that if you could stack a column of water 1 in. by 1 in. 10,000mm tall before the jacket would begin to leak. Now that's a lot of rain at one time!
With triple stitched main seams and also fully taped seams, this jacket is made for work and made durable. 
One of our favorite parts of this jacket is the angled cuff openings. This is perfect to cover up the top of your hands while you're working, but don't get in your way.
Exactly what it sounds like. Everything is the same as the regular Shoreline jacket, except it's insulated. This is a midweight insulation, so not their warmest and definitely better than having nothing there.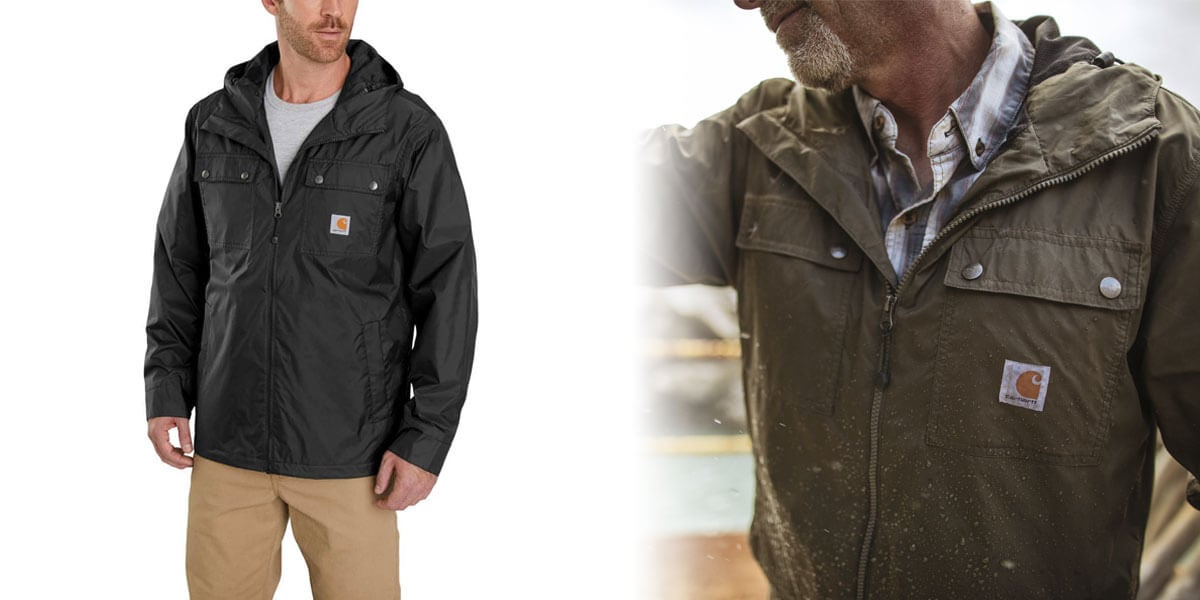 The Rockford jacket is a great option for someone who would like a really lightweight jacket, something for Spring or Fall. This jacket is great for a light rain, and helps keep you pretty dry in a downpour. 
This is a great soft shell jacket that offers two chest pockets and two lower pockets, which is perfect for storing screws, nuts, and other small items while working.